Foot & Ankle Injuries and Trauma
An injury to your foot or ankle can upset your whole life if it interferes with walking and other daily activities. Fortunately, Dr. Ebonie has extensive experience diagnosing and treating foot and ankle injuries. 
Call or Tex for a consultation: (949) 203-5704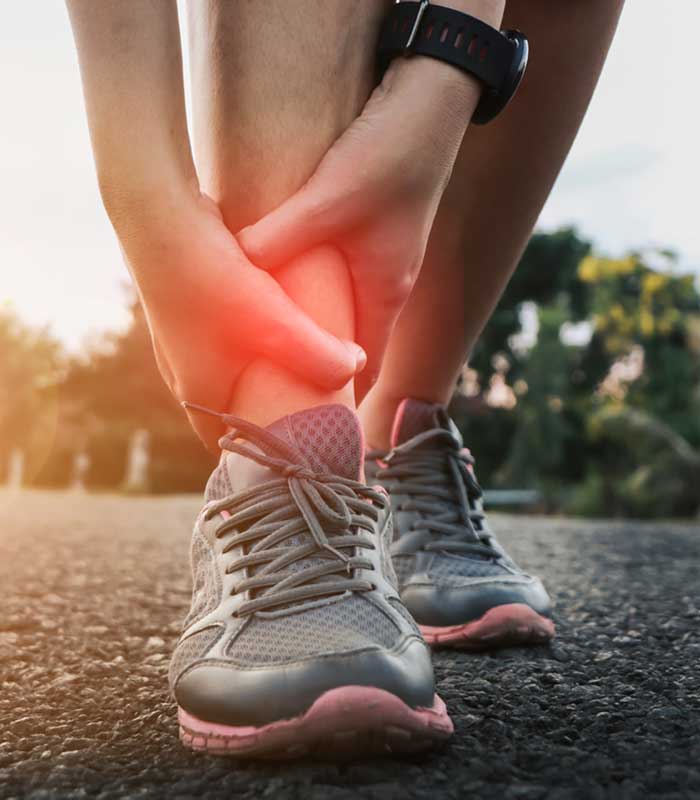 Let's Get You Back In The Game
Sprains, strains, stress fractures and tendinitis are just a few of the conditions that can sideline the weekend warrior or professional athlete. My desire is to help you return to pre-injury performance as quickly as possible. I use the latest proven techniques, treatments, and procedures to accomplish the goal of helping you recover in record time.
Conditions That Typically Affect Athletes
From the constant impact of a runner's feet on the pavement to the jumping, sprinting and pivoting of those participating in field and court sports, foot and ankle health is vital to performing at a high level. Unfortunately, the feet and ankles are prime candidates for injuries, so educating oneself on the importance of foot and ankle care, and on potential injuries, can help in the prevention of foot and ankle issues. Sports with high rates of foot and ankle injuries include Baseball, Basketball, Field Hockey, Football, Golf, Lacrosse, Rugby, Running, Soccer, Softball, Tennis and Volleyball. Dr. Ebonie specializes in sports injuries  and recovery.
Foot and Ankle Sprains and Strains
Sprains are one of the more common sports injuries to affect athletes. Understanding the severity of an ankle or toe sprain is key to setting up an appropriate treatment plan. Whether you've received a slight sprain, or your sprain is severe with a potential fracture, evaluating your foot and ankle health after a sprain will help Dr. Ebonie to determine a treatment plan to get you back up and running with as little downtime as possible. 
Achilles Tendinitis
Repetitive motion often associated with sports activities can lead to the inflammation of the Achilles tendon, commonly known as Achilles tendinitis. The pain associated with this condition can be frustrating if not overwhelming. It's important to have it looked at as soon as possible, so schedule a visit Dr. Ebonie if you have pain in the lower leg down through your heel.
Heel Pain
Heel pain can be caused by a number of issues, including plantar fasciitis, stress fractures or even nerve injuries. Overexertion, wearing the wrong shoes and improper stretching are common causes of heel pain. Once Dr. Ebonie better understands the causes of the pain, she can help you with the best treatment plan to get you back on your feet and performing at the highest levels of your sport.
Stress Fractures
If you are new to a sport or have taken time off and are getting back into a sport, you may be at high risk of stress fractures, especially when your sport is high impact or high strain on the feet and ankles. A stress fracture is an incomplete break in a bone. If you believe you have symptoms of a stress fracture, schedule an appointment to see Dr. Ebonie.  She will help you determine exactly what you are dealing with a give you a treatment plan to get you back in the game.

Your Foot and Ankle Health Starts Here
Flexible appointments available.
Or call —(949) 651-1202
Irvine Location Appointments
If you are a new patient and would like to request an appointment with Dr. Ebonie Vincent at the Irvine, California location, please fill out the form below. Please Note: Appointments for the Irvine office are typically 4 weeks or more from today's date.

Better Foot & Ankle Care is Our Mission
Dr. Ebonie is currently taking new patients. For Urgent Care requests please call the number below.
1310 W Stewart Drive Suite 401, Orange, CA 92868